Segue Technologies® worked with The Hybrid Shop to completely redesign their website to resolve the issues they were facing and better highlight their services
---
About the Client
The Hybrid Shop is an automotive maintenance and repair company that specializes in Hybrid Electric Vehicles (HEV). They offer a patent pending Battery Conditioning Process to HEV owners, and provide training and education services to automotive dealers. The Hybrid Shop offers franchise opportunities for dealers to use their exclusive technology and expand their dealer network.
The Challenge
As HEVs increase with popularity worldwide, the Hybrid Shop recognized the need to provide consumers with a cost-effective solution for reconditioning HEV batteries and reducing environmental impacts from battery replacement waste. The Hybrid Shop website served as a portal for Franchise Partners looking for information and training on using their battery reconditioning technology. It also, it provided the general public and (future customers) with specific HEV service details and the ability to connect with Hybrid Shop dealers across the United States to make appointments or schedule regular maintenance.
The Hybrid Shop determined that the website was not effectively promoting their new patent pending reconditioning technology. In addition, lack of maintenance and development upkeep had resulted in a dated design and usability problems throughout the website, which resulted in conflicting messages for their separate target audiences.
The Solution
Segue Technologies® worked with The Hybrid Shop to completely redesign their website to resolve the issues they were facing and better highlight their services. Based on their requirements, Segue designed and developed a Responsive website with an updated look and feel and improved site architecture focused on improving visitor flow and site usability. The new site was developed with a customized content management system, using WordPress, that allows The Hybrid Shop to manage and update their content in real-time. In using a responsive design, the site is also optimized for a wide range of types and sizes of devices, from desktop/laptop computers, to tablet and mobile devices.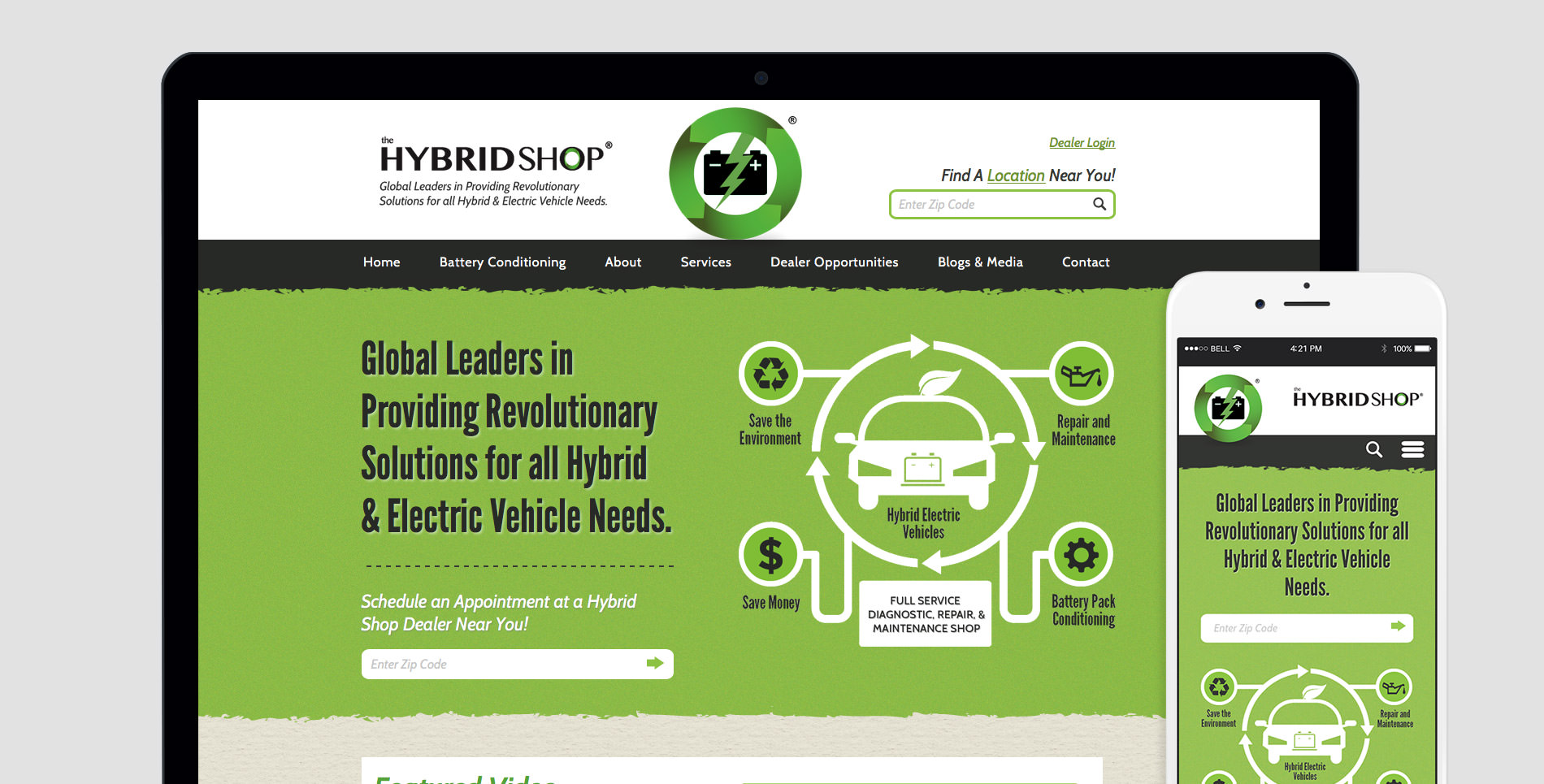 Highlights of the solution include:
---
Usability reviews and exercises to completely restructure the information architecture and flow of the website, improving site stickiness and general discoverability on the website
A Responsive design for users on the go who need access or immediate support from the Hybrid Shop dealers at any location
A customized content management system with the ability to make real-time updates to the website
Customized themed Word Press pages with the ability to post blogs, news, videos, and share that media on social media outlets to optimize marketing and education to the general public
The ability for users to make an appointment, request a quote, or seek support from any Hybrid Shop dealer location world-wide
Auto-scaling infrastructure, using Amazon Web Services, to support increased bandwidth as traffic numbers increase