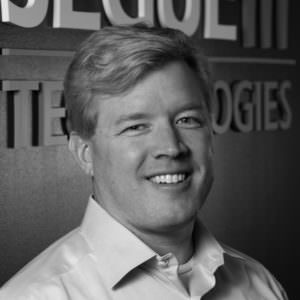 Brian Callahan
President and CEO
---
---
Leading corporate operations and solving complex problems through process engineering and technology delivery
---
Brian has served as President and CEO since 2002, when he assumed a majority ownership stake in Segue. He provides strategic direction and vision in overseeing operations, to include all aspects of corporate budgeting and financials, internal controls, compliance and policy development. In addition, providing leadership with respect to company growth, strategy, team building, employee development, innovation, technology mastery, and development of effective relationships is at the core of Brian's day-to-day responsibilities.
Working closely with his partners, Brian develops strategy to advance Segue's mission to solve our customer's challenges by consistently delivering high-quality, innovative products and services. Brian's passion lies in working with customers to design process improvements and apply appropriate technologies that transform their operations and solve their most challenging problems. Over the past 20 years, Brian has successfully managed a wide range of DoD enterprise-level software development and data analytics implementation efforts, delivering measurable and meaningful performance improvements and costs savings.
Prior to starting his corporate career, Brian served in the United States Army 75th Ranger Regiment (1st Battalion) and in the 12th Special Forces Group, Army Reserves. The Ranger motto "Sua Sponte" (of their own accord) continues to guide Brian's leadership philosophy at Segue; nurturing a corporate environment where technical experts and program managers are empowered to push themselves and Segue for continual improvement for its operations and its customers.
Brian holds a Bachelor's degree in Business Administration from the University of Michigan ("Go Blue") and a Master's of Science in Environment Sciences from the Johns Hopkins University.
Back to Management Team