You need backups of your data. It's true and if you follow this advice, you'll thank me later.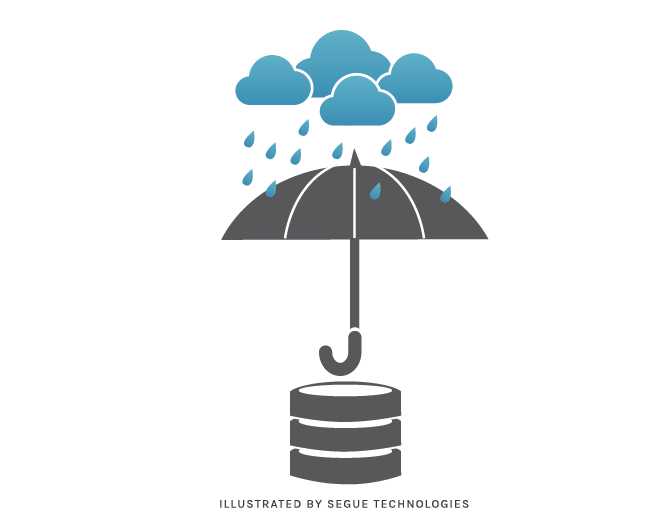 Over the years, I've had extensive experience with helping people work through problems with failed storage devices. I've helped a DJ rebuild his music library hours before a big-ticket gig, scraped a doctoral thesis off the too-well-traveled laptop used to write it, and I can think of a few small businesses that still have their accounting data and client files, thanks to me. These are just the good stories. The bad stories, with devices that were too far gone, were less about stages of troubleshooting and more about the stages of grief – and I wish I was joking about that. So, unless you would be willing to notarize a document saying "I am completely fine if you come by right now and erase everything I've ever put on my computer," you need backups of your data.
How to Choose a Backup Solution
Like many IT purchases, one of the hardest parts of finding the right backup solution for you will be figuring out exactly what you need from the sea of available options. Whether you're just thinking about your own computer or those throughout your organization, these are some of the questions you should ask yourself.
How much data do you need backed up, and how frequently?
Who will be responsible for the backups? Individual users, your IT staff (if you have one), or a third party?
How quickly would you need your data restored in case of an emergency?
Do you need redundant copies of your backups?
Do you need to comply with any governmental or security requirements?
What is your budget?
Here are some broad scenarios for deploying your various options:

Again, these are broad strokes, and fairly subjective. The "cheap" options might not seem that cheap if there isn't much wiggle room in your current budget. Likewise, the expensive ones might seem totally worth it depending on your individual requirements.
Your Best Backup Option May Depend on Your Number of Devices
Let's say you've only got a handful of workstations, or just one, and you want to get things set up and running with a minimum of fuss. Your first cheap and easy option is to run down to your local electronics store and pick up a USB external hard drive. If you're running a current operating system (anything after 2009, pretty much), it will have built-in utilities that can make copies of your documents. Many of these USB drives also have software bundled with them that will offer additional ease-of-use or more robust features, or both.
Another option is cloud backup. There are many providers on the market these days, though I predominately work with JungleDisk. With this method, you create an account and install a small software utility on your computer. Much like the disk-based option, this allows you to select the items you want backed up, set the frequency, and then let it run automatically. Advantages of cloud backup include the ability to use one account for multiple computers, as well as not having to worry about toting a hard drive around with you. This option will carry a recurring cost, but the initial investment is lower than purchasing a hard disk outright. Luckily, JungleDisk's personal pricing usually includes at least a few gigabytes of storage and then a fixed rate per gigabyte above that, so you only end up paying for what you need.
If you have a little more technical expertise or budget flexibility at your disposal, you can set up your workstations and servers to have data redundancy built in. Using software and/or hardware utilities, you can have your data simultaneously written to multiple hard drives, or mirrored elsewhere on your network or the internet in real-time or as a scheduled job. RAID controllers and variants of the Linux rsync utility (many of which exist for Windows and OS X) can be immensely useful in this area. Even better, many of these are open source, meaning the only costs are additional hardware you might need, plus the time to set the system up.
The cheap and easy options are a little different when you're talking about multiple computers, and it really depends on your individual situation. Let's say you have twenty computers with 10GB each that need monthly backup. If selecting JungleDisk, as an example, the Workgroup Edition pricing ends up being about $80/mo. That may seem steep, but compared to purchasing a network-attached storage device (with prices that easily range into the thousands of dollars), this pricing can be quite low. And with HIPAA compliance becoming one of the next big things in the IT world, you may find it more cost-effective to use a cloud provider partially or wholly in place of upgrading your own infrastructure.
Local Network Storage Options
Local, networked storage can provide some advantages, though, in that you can use them for things other than just backup. The cloud products can be made to share files between users, though networked storage can be easier to use depending on your environment. The open source Amanda utility works on a variety of platforms and can provide a centralized server-client solution on your local network. Like many open source utilities, Amanda's actual costs can be measured in hours instead of dollars, especially if you don't have at least an intermediate amount of experience with Linux available. There are GUI front-ends out there, but the ones I have seen are paid options.
Deluxe Solutions
The "deluxe" solutions are the ones that require significant monetary and labor investments to set up, but provide some of the fastest and easiest recovery processes. Symantec's BackupExec software can schedule regular backups to most common storage media formats, and when backing up Windows servers, can integrate with Microsoft's database consistency checking utilities. The process of restoring from a backup is fairly simple and provides a number of options to suit how much data you need restored. Your storage medium will decide how quickly the restore operations process.
If you rely heavily on virtual machines in your datacenter, Veeam and Horizon Mirage provide image-based backups that can restore access to a downed server in a fraction of the time it would take to rebuild a server from tape or disk backups. These can command a pretty penny, but if the costs associated with downtime are high in your line of work, these things could pay for themselves during the first outage.
A Reliable Backup Solution is a Necessity
Backup is a necessity for nearly everyone, and there are tons of players in the industry right now trying to sell this and that. If you don't already have a system in place, try this: Copy your critical files to a flash drive, email them to yourself, and then make a habit of doing this. After a while, you may start to wonder if it could be easier. The answer is yes, and if you find yourself needing some guidance, Segue would be glad to help.