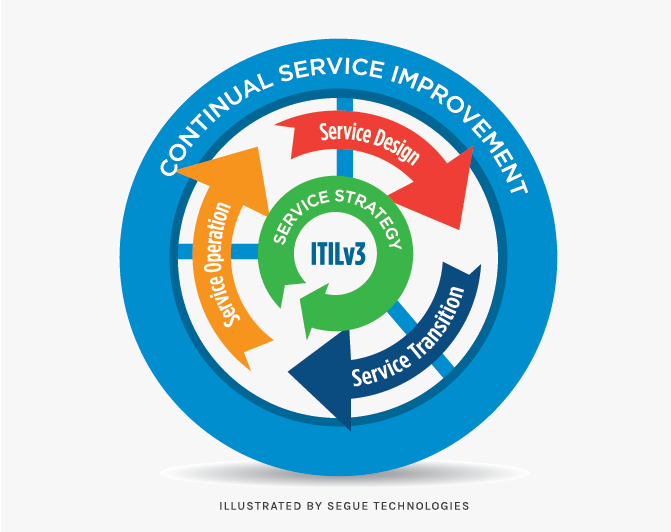 When it comes to management of IT services, the question, "How can we improve 'x'?" is often asked. The "x" can represent a multitude of project facets (services offered, productivity, organizational planning, etc.), and one of the best methods for process identification and improvement is the IT Infrastructure Library (ITIL), a framework for information management that focuses on continuous improvement to business processes. There are five core process areas related to the ITIL framework:
Service Strategy
Service Design
Service Transition
Service Operations Process
Continual Service Improvement
Each process is iterative, and process outputs serve as inputs for subsequent process areas. This framework allows organizations to integrate business and service strategies, monitor measure and optimize performance, optimize and reduce costs, and manage knowledge and risks effectively.
Service Strategy
As new technologies emerge, it's important for us to understand how these tools fit into the overall service strategy of our project deliverables. ITIL's Service Strategy process area allows organizations to identify their business objectives, customer needs, manage service portfolios, and answer the, "why are we doing 'x'?" instead of, "how do we do 'x'?" question. Artifacts of the Service Strategy process area lay the groundwork for all subsequent core process areas (e.g. Service portfolio, Vision and Mission, Patterns of business activity and demand forecasts, and financial information and budgets).
Service Design
Once a service strategy has been determined, it is important that those services are designed as efficiently as possible to reduce the need to improve those services over their lifecycle; this is where the Service Design process area takes center stage. This process area reduces total cost of ownership (TCO), improves service quality, consistency, and performance. Service Design covers any requirements for new or changed services, management information systems and tools, technology and management architectures, measurement methods and metrics, and processes required to support the service being offered. Artifacts of the Service Design process area include: service design packages, financial reports, SLAs/OLAs, and achievements against key performance indicators (KPIs).
Service Transition
The Service Transition process area allows service providers to plan and manage changes efficiently and effectively, manage risks to new/changed or retired services, ensure knowledge transfer occurrence, and set performance expectations. Artifacts of this process include: a change schedule, feedback to other lifecycle stages, and providing information to the service knowledge management system (SKMS).
Service Operations Process
The Service Operations process area provides an opportunity to see the benefits of each of the previous process areas, in action. This process area covers the coordination and carrying out of activities and processes at the agreed-upon levels, for your business users and customers. Management of events, incidents, problems, and access are all covered under the processes of Service Operations. Artifacts generated as part of this process area include: operational requirements, financial reports, and operation performance data and service records.
Continual Service Improvement
Continual Service Improvement (CSI) differs from the other four process areas because it involves incremental or large-scale improvements across a service lifecycle. CSI involves more than just measuring current performance. It incorporates understanding of what to measure, why it is being measured, and what the successful outcome should be. All processes should have clearly defined objectives and actionable measurements, which will lead to actionable improvements. Artifacts generated as part of this process area include: change requests for improvement implementation, service improvement plans, updates to the SKMS, achievement of metrics against KPIs, and service reports and dashboards.
Implementing an ITIL framework of iterative continuing processes can help service provider organizations improve their "x," in a defined and measured manner. By following the processes of strategy, design, transition, operations, and CSI, organizations can reduce inefficiency, and deliver greater value to their customers.