Custom Software Development
---
---
1515 Wilson Blvd, Suite 1100 Arlington, Virginia 22209
---
Segue is headquartered in Arlington VA, where we are close by many of the Federal, Commercial, and Non-Profit customers we support. We have teams onsite at the Pentagon, in downtown Washington DC, and supporting Air Force, US Marine Corps, US Navy, and Department of the Interior customers.
Our Arlington VA office manages our corporate operations and is the hub for our Software Engineering and Program Management organizations. This space is designed for collaboration, with multiple meeting spaces designed to bring local and remote members of Agile development teams together for daily stand ups. Convenient to several key customers, we are able to host technical interchange meetings, prototype demonstrations, and requirements elicitation sessions. These are key to the success of the custom system development and system modernization projects we support.
Is your Arlington VA based organization in need of a new or updated enterprise system? Do you need to modernize your existing applications to meet current or future needs? Are you interested in learning how mobile applications can enhance the services you provide your customers? These are common problems for any successful and growing company. Increased demands upon your IT tools from an expanding customer base or a growing workforce require modern and scalable applications for web-based use, database applications to manage critical data, and mobile applications to stay current with technology trends. Segue Technologies specializes in providing software development, data management support, and mobile applications!
Segue has been recognized as a Top Mobile App Developer in Virginia by Kumulos.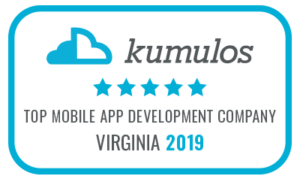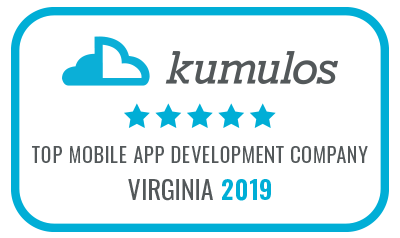 We would like to engage with your Arlington VA based business to discuss how Segue Technologies can apply our specific services like our Arlington VA custom application development, custom software development Arlington VA, and mobile application development to meet your business needs. We understand the business environment of Arlington VA, we understand the technologies that support the custom application and database solutions we provide, and we are excited to gain an understanding of your unique operational needs! Visit our website or give us a call at 888-549-8033 at any time to speak with a solutions consultant.
Business Process Management with Pegasystems
Pegasystems is a no/low-code application development platform which includes Business Process Management (BPM) and Case Management, Mobility, Robotic Process Automation (RPA), Analytics and Artificial Intelligence (AI)-powered decisioning tools. Pega is a visually driven, low-code development environment that fosters collaboration between business and IT, enabling quick development of applications, faster time to value, and reduced development costs. The No Code aspect of Pega allows "Citizen Developers" to develop and update applications that meet their evolving business needs. Segue is actively engaged in a Small Business Innovative Research (SBIR) project to use the Segue Process Framework (SPF) with the Pega platform to define repeatable legacy migration processes and build a prototype of a modernized business system in a cloud-based platform.
Legacy System Modernization
Segue Technologies wants to help your Arlington VA based business successfully transition seamlessly from your current platform to a new custom software, database, or web-based application! We have provided legacy system transition support to numerous federal government, commercial, and non-profit customers. We have a refined approach to requirements identification which ties your business requirements to each stage of the application development life cycle, ensuring that your database application, web-based application, custom software application, or mobile application functions exactly as you need it to. Segue Technologies' staff stays current with technology trends and is eager to assist you in understanding how new and upcoming software applications, such as iPhone applications and Android applications, can be implemented to engage your Arlington VA customers.
Requirements Focused Development
At Segue Technologies we take the time to understand your business, your unique operational challenges and constraints, and to help you fully define your new system requirements. Our approach is designed to provide customized solutions Arlington VA right for you the first time. Our processes ensure close collaboration between our application development team and your Arlington VA staff, throughout all stages of the software development life cycle, to include: project planning, modeling, design, development and testing, delivery and post-implementation maintenance. We are experts in understanding the business and mission of a wide range of customers, to include government, commercial, and non-profit organizations in Arlington, VA. Segue Technologies can create a customized solution to meet any of your business challenges!
---
1515 Wilson Blvd, Suite 1100 Arlington, Virginia 22209
---