Segue was named as a Top Mobile App Developer in Virginia by Kumulos. This recognition is based on innovation that goes beyond the norm of mobile. To be featured as a Top App Development company by Kumulos is a great achievement and shows that a software development company is excelling at mobile strategy, design, and development. Segue's core Mobile Application experience is in support of Commercial and Non-Profit customer missions, but we are increasingly working with Federal and DoD organizations as they adopt mobile strategies to support their existing enterprise system infrastructures.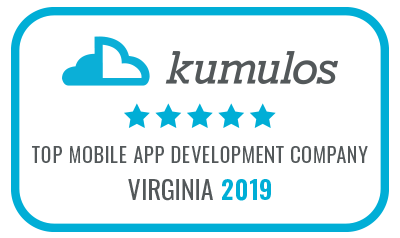 As a leading provider of mobile app performance management software, Kumulos eats, sleeps and breathes mobile. They regularly survey and assess the best Mobile App Development businesses across the world. In order to be named a Top App Development company by Kumulos, a company must be an established mobile app development business, which is growing fast and developing exceptional mobile apps for their clients. The company will either have broad expertise across many industry sectors or will have developed a niche expertise. Either way, they will have outstanding business results, evidence of client wins and good client retention.
The success of the mobile projects is backed up by the apps themselves being ranked well in the app stores and having good user reviews. Kumulos looks at the strategy for the app, what the app solves, the technology used behind the app, any use of AR / voice / IoT and its on boarding experience, along with the UX/UI design and use of push notifications etc.
Segue is currently focused on providing dedicated development team for long-term Federal development projects. Our mobile app developers are working on projects with DoD customers. Please contact us if you need help with your mobile app development project, or mobile strategy to modernize your Federal information system.