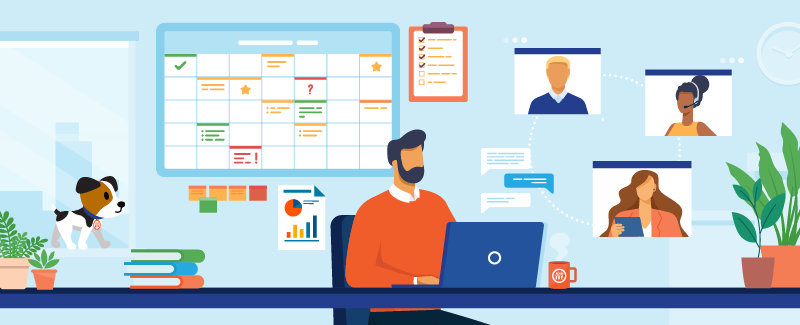 A Technical Project Manager ensures that the technical projects of a company are executed successfully. Doing so involves working with/managing a team, interacting with clients/stakeholders, communicating and identifying requirements, tracking data and budget, setting schedules, defining scope/goals/deliverables, and more. A Project Manager, also known as PM, works as a liaison between a company and its clients.
So, What Does a Project Manager Actually Do?
At Segue, Project Managers are part of the hiring, planning, and training processes, they set schedules, lead meetings, distribute workload, and most of all, work with team members making sure they feel appreciated and developing their skills.
The general responsibilities of a Technical Project Manager often include:
Determining and defining clear deliverables, roles, and responsibilities for all staff members
Assigning tasks based on the project priorities
Maintaining contract costs, performance, and schedule requirements
Holding regular technical team meetings to help address any questions or challenges regarding upcoming projects
Communicating with customers to address questions and expectations
Providing staff oversight, and support hiring activities as needed
Establish and implement training processes for all technical personnel
Managing overall contract performance, and understanding the needs and customer expectations to ensure customer satisfaction
Ensuring quality software product development and sustainment support
Ensuring projects shall be managed in accordance with industry best practices (e.g. the Project Management Institute's Project Management Body of Knowledge (PMBOK))
Oversight of requirements management, configuration management, risk management, cybersecurity management, and overall process administration
Researching and evaluating hardware and software technology options for each project
Updating and maintaining all production technologies, helping to ensure proper maintenance and installation are achieved
Supporting business development efforts, including leading and supporting proposals as needed
Skills and Competencies of a Project Manager
Project Management skills and competencies are often a mix between soft and technical skills. Here are the top skills we look for when hiring a new Project Manager:
Communication – including active listening, written communication, nonverbal communication, and public speaking. From written reports to presentations, Project Managers are in constant communication with team members and stakeholders.
Leadership – this includes motivating and coaching team members, taking initiative, giving and receiving feedback, showing a vision, conflict resolution, and knowing when to delegate a task.
Decision Making – this skill can influence any aspect of a project. From budgeting to adding a new member, Project Managers are always deciding what is next. Problem solving, creativity, analytical/critical thinking, and collaboration are part of this skill.
Business Acumen or the Ability to Make Good Decisions and to Use Professional Judgment Wisely – working with a budget, scheduling meetings, working with different customers, risk management, and negotiation skills are part of what we expect from a Project Manager.
Organization and Strategy Development – this includes understanding the impact of a project, keeping a project on schedule, planning and scheduling, integrating business goals, and developing metrics and resource allocation.
Technical Competence – at Segue this can be a bachelor's degree, years of experience, a Project Management Professional (PMP) certification, experience with a specific customer or system, working knowledge of government contract management, Software Development Life Cycle (SDLC) experience, Contract Data Requirements List (CDRL) experience, and more.
What's It Like to Be a Project Manager?
An Interview with Alex O'Bannon, Managing Director at Segue Technologies Inc.
What are the main 5 duties/responsibilities of a Project Manager?
Working to improve employee satisfaction – culture is key
Ensuring customer satisfaction – tends to follow from #1
Communicating performance, issues, and risks to leadership – provide recommendations and be clear with requests
Learn the technology so you can better understand challenges and weigh in on solution development
Constantly identify ideas for improving processes and teamwork
What are 3 soft and technical skills required to succeed as a PM?
Patience
Ability to communicate a consistent message to peers, staff, leadership, customers, and partners
Be unafraid to report bad news
How do you keep your team motivated?
It's usually as simple as just reaching out to not just discuss project activities, but home life, family trips, education desires, and career development goals. What keeps each person motivated becomes rather obvious from there and then it's my job to ensure we're doing whatever we can to provide support such as education reimbursement, finding interesting technology to work on, or even helping staff going through challenges at home.
What are the most important skills you look for when hiring new team members?
Technical skills are fairly easy to identify and there are a lot of highly capable folks out there. However, I really like to find new team members with a demonstrated ability to work within a team. Combining solid technical skills with great collaboration allows our teams to solve difficult challenges quickly and pursue real innovation.
What is the most challenging part of working as a Project Manager?
Being remote from staff. Maintaining and building relationships has become harder and harder over the past few years.
What's the most rewarding part of your job?
Probably a toss-up between having staff achieve personal goals (certifications, education, or other) and whenever I hear glowing feedback from our customers.
What educational path did you take to become a Project Manager?
I've found that constant education is key in not only becoming a Project Manager, but also in staying relevant and valuable in the role, especially within IT. My formal education is composed of a Bachelor's in Mechanical Engineering and an MBA in Finance. Professional certifications include a PMP, Sec+, CSM, ITIL, and CMMI. There's no substitute for on-the-job experience, but each of these areas of education has provided some amount of support for better informing situation analysis and decision-making as a PM.
How do you maintain work/life balance and deal with stress?
Having something you care about and challenges you outside of work is awfully important. As for stress – it's everywhere in life, but it is required for meaningful growth. The key is in selecting your stress rather than having it selected for you. If you understand what motivates you and can think strategically, professional decisions become clearer and the stress in your life becomes more enjoyable and worthwhile.
As a Project Manager please describe Segue's services and methodology
Segue services focus on improving our customers' experiences by persistently assessing what we can do better. Modernizing technology typically gets a lot of attention, but we've also created significant value just in improving how everyone communicates – more detailed and user-centric requirements documentation, forums for discussing long-term plans, and implementing a robust DevSecOps approach wherever possible.
What advice do you have for individuals considering becoming a PM?
Make sure you work on strategic thinking skills, enjoy creating relationships, and are motivated to help folks reach their personal goals.
If you are interested in joining our team or exploring our career opportunities visit Segue's career page or share your resume with our Recruitment team at jobs@seguetech.com To find more information about our team members go to Segue's Blog: Employee Spotlight.