In a recent news item, we shared that our President and CEO, Brian W. Callahan was interviewed by John Gilroy of Lectromec on Federal Tech Talk, on Federal News Radio. In the interview, Brian discussed the secrets of Segue's success and how the company has worked towards mastering agile and mobile development and data analytics. These topics cover a wide swath of Segue's varied projects for Federal and Commercial customers. Below are some highlights from their conversation.
Segue's Secret to Small Business Success
In the interview, Brian explained that Segue strives to be a technology partner that listens to our customers, understands their needs, requirements, and constraints.
"The first thing to do is to just understand what their business is, what they're trying to achieve from a business standpoint, and I think that's really one of the distinguishers," said Callahan. "A lot of tech companies are out there pushing a certain solution and we take the opposite approach- what are the business outcomes you're trying to achieve and let's work backwards from there."
Because Segue is a small business, we are positioned to support projects that require specialized, dedicated, and innovative support teams. While big businesses may be the right choice for projects requiring large workforces or complex and costly capability, small businesses like Segue are often able to increase quality and innovation on many different types of projects- and often at a lower cost.
Interviewer John Gilroy reflected this sentiment when he said, "I think you can argue rather cogently that because you're a small business, because you're agile and flexible and can move assets around and respond quickly, you might be better positioned than a much larger organization that may have some formidable structure and rules."
"We're problem solvers," said Brian. "That's what we are."
Implementing Agile for Segue Projects: Agile Goals
The Segue team uses a hybrid approach to software development, pulling together the most useful principles of various methodologies including Waterfall (Iterative), Rapid Application Development, Agile Development, and others. Our framework includes many practices of Agile development, including many of the aspects of the Scrum Methodology. Agile practices ensure customer involvement and engagement through the life of the project and help to get better software products completed more rapidly.
"There's a lot of debate in the Agile Development Community or the Software Development Community about what Agile really is or the best way of doing it," said Brian. "What I would say- because I like to kinda break things down into the simplest terms- is what you're really trying to do is get workable software out there in front of the customer, in front of the user that has value to them and trying to do that in the quickest way possible."
Brian went on to discuss the relationship between Agile and scope creep.
"Agile is one of the best ways to prevent scope creep because scope creep tends to come online when people sit down in a room and they figure out everything that they want and they may not know that what they want, is really what they want… if they could see it, they actually wouldn't want that. So being able to get things consistently in front of the customer, it allows them to get down to… what has value and what doesn't."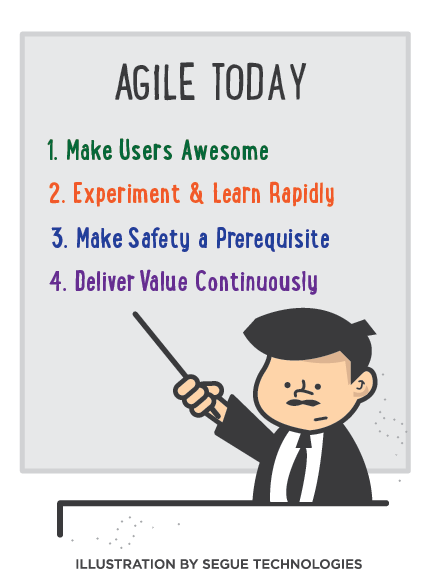 Agile Development with Federal Customers
One principle of Agile development is to have the customer integrated with the team throughout the entire process. However, this is sometimes difficult to achieve with Federal customers and so it can sometimes be difficult to apply Agile Methodologies in Non-Agile Contractual Scenarios.
"Our approach as it is, is to not be rigid on only one way to be able to do Agile- you've gotta be flexible," said Brian. "Sometimes you might not have as much access to the customer and if it's going to be a problem… you might have to just rethink how that's going to get done. But in other cases there's ways you can work around it. Some cases for our Federal Government Customers, you need to have longer sprints because they don't have enough availability to be meeting with you daily or two or three times a week… It's a key thing to be adaptive based on what your customer can support."
Data Analytics for Business Critical Decision Making
Segue has a wealth of experience helping customers solve specific mission challenges of their existing enterprise systems, by making data reliable, available, and discoverable. We deliver comprehensive data analytics solutions, leveraging a wide-array of Enterprise data management and visualization tools, for analysis and reporting on data for billions of dollars in financial and manpower programs. While there are many data visualization products out there, we realize that it's not a "one size fits all situation" and help our customers find the tools that best suit their individual needs.
"We're pretty up front with our customers. As a small business, I'm not out there just shilling some type of off-the-shelf technology and trying to just make sales on that," said Brian. "Particularly within the federal space- because there is a lot of data, there are a lot of disparate systems, a lot of different data standards and things like that….[data scientists] spend a large amount of their time, a disproportionate amount of their time, doing what is called data wrangling…. if you're going to implement some type of analytics platform you need someone to do that, who can understand those source systems and can understand your business processes."
Mobile Applications to Extend Systems and Capabilities to the User
Segue views Mobile Application development as a way to extend the capabilities of existing systems and information stores, as well as an opportunity to add stand-alone products. We work closely with our customers to identify areas where mobile applications can provide new capabilities and efficiencies or enhance their existing web-based processes. Find out more about our Mobile Application Development services here.
Looking for more?