Working at a "Web, Data, Mobile" development company means that Segue developers are frequently asked to solve software problems that demand the "latest and greatest" tools and techniques. We are often asked by managers if we know another language, environment, or framework (like Java, .NET, FuseBox, Model-glue, MVC or Spring to name a few), as we look at new business opportunities and sometimes need to fill a technical knowledge gap that has developed in the company. With the fast-moving nature of technology, one of our developers' greatest challenges is to stay current on the newest technologies. Most turn to the web, where software vendor and open source sites are great ways to stay informed. In these instances, it can be very helpful to have a fast springboard into these technologies. One way in which Segue developers stay current is by subscribing to lynda.com.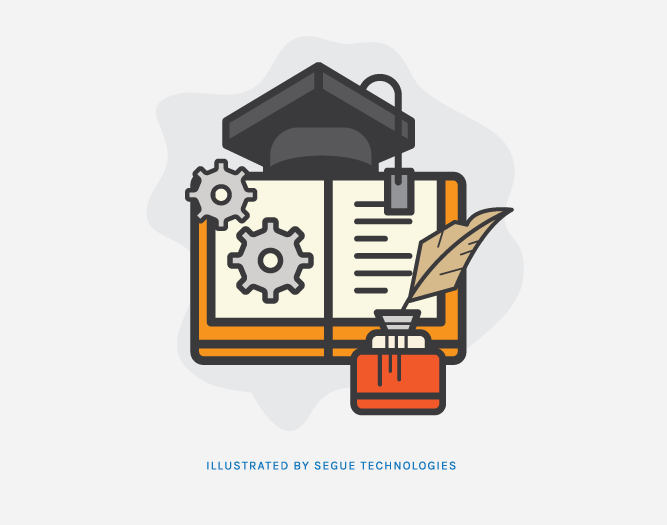 What is lynda.com?
According to the website, lynda.com is a "leading online learning company that helps anyone learn business, software, technology, and creative skills to achieve personal and professional goals. Through individual, corporate, academic, and government subscriptions, members have access to the lynda.com video library of engaging, top-quality courses taught by recognized industry experts."
What is even better about Lynda.com is that it is only $25-$35 a month with a discount for signing up for a whole year. At Segue we joined as a corporate member and multiple users can login and take training, which makes it an easy and affordable training option. The higher cost per month, $35, gives you access to all the code used in the class, or other resource files. In my case, for the iOS development courses there were code snippets that were very helpful and, in some cases, full libraries were made available.
It's also worth mentioning that lynda.com also recently added a track for project management and they are approved by the Project Management Institute (PMI) as a training partner so you can earn PDUs (professional development units) to maintain your PMP through lynda.com. There are a number of courses available in this track and more are promised.
Why I Use lynda.com
lynda.com is one of my favorite learning sources and I have used it for the past few years. In my experience, I've found that they have some of the highest quality videos for learning development languages and tools. A couple of years ago I took a crash course in iOS development through lynda.com, starting with a fundamentals course, a side track in essentials of objective C, and then an advanced course with Simon Allardice. It really jump started my knowledge of iOS mobile development and helped me develop practical skills quickly. The course took me through locating and downloading XCode, getting setup as a registered developer on Apple's site, getting my certifications straight so I could deploy apps to my devices for testing, and into the thick of iOS objective C development, with Cocoa and more.
I've found that their video library works great on PC and on mobile devices. I actually prefer the tablet interface because it is so easy to manage classes, review objectives, and jump around within in a class. I also am happy to report they regularly restock and revamp their offerings to keep things as current and fresh as possible.
lynda.com in Action at Segue
At Segue we use ColdFusion for a number of our projects with the Air Force and National Park Service. At one point, we ran into a situation where we needed to upgrade our clients from ColdFusion version 8 to 10 in a matter of months. It just so happened that some of our developers were not as familiar with these versions. With lynda.com, we were able to get everyone involved in the project to view a couple of courses on the site to make sure they were up-to-date on latest updates in and the essentials of ColdFusion 10. Once everyone was on the same page, it was easy to determine where our issues might be in upgrading our client's projects.
lynda.com has also come in handy when learning about SmartClient, a platform which many projects are moving to but is not widely used yet. Unfortunately, there are no books commercially available for SmartClient, but the foundation of it is Java, JavaScript and XML- which lynda.com already has many courses on. Needless to say, it has been a huge help in getting our team ready to tackle SmartClient and get our client's projects rewritten.
I have used other online training sites (Microsoft Virtual Academy, UCertify, MeasureUP) and some of them are quite good. Microsoft Academy is great if they have the course created that you want, but it is still a work in progress. UCertify and MeasureUp are great with their certification materials and tests, but their organization of courses and the ability to access them on tablets, iPads, and mobile phones is often limited. lynda.com stands out because it is a terrific, and incredibly affordable option for staying up-to-date on new topics. I highly recommend it for new and experienced developers to stay current on the latest technologies.