Segue Technologies was a platinum sponsor of the Montgomery AFCEA's 2015 Montgomery Information Technology Summit (MITS) which was held on May 19 and 20. This year's theme was "Breaking the IT Cost Curve — Creating a New Paradigm." This annual event is a great opportunity for those involved in Air Force IT to network with government stakeholders and industry peers. The event's agenda allows the audience to receive a high level view of where the Air Force is headed with their IT strategies and thinking.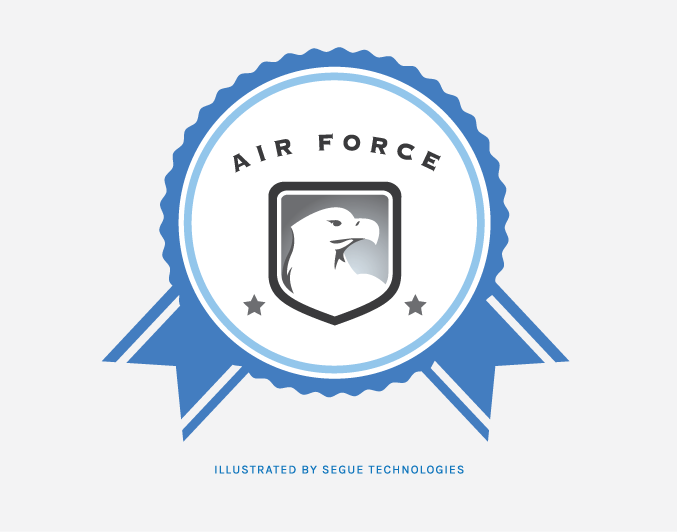 Because of Sequestration and budget pressure within the Federal Government, there is a great deal of pressure to drive down cost and create efficiencies within the Air Force. This is reflected in the dual acquisition strategies that are referred to as Better Buying Power and Bending the Cost Curve. Below you'll see noteworthy comments from Mr. Robert Carl Shofner, Program Executive Officer, Business and Enterprise Systems (PEO/BES), Maxwell AFB-Gunter Annex AL, along with relevant hyperlinks to further expand on key points.
Noteworthy comments from Mr. Shofner:
All seven sets of NETCENTS-2 Contracts have been awarded.
BES is focused on Bending the Cost Curve.
AF DEAMS ERP is getting rolled and deployed.
AF MROi ERP kicked off, first post ECSS maintenance software program.
AF Small Business Spend was 34% in FY14.
BES PEO Priorities:

Keep high priority programs on track, fully deploy DEAMS, award MROi, execute on IPPS, and achieve full operational capability of AF Civil Engineering System.
Improve relationships and transparency with stakeholders. Award and clear any potential protests on NC-2 contracts.
Own Technical baseline/build to the future.
Build on Better Buying Power. Hit small business target.
Cross PEO IPT, attacking the seam between infrastructure and application PEOs.
CEO conferences and revised vendor industry days.
Planning the post-NETCENTS-2 era.
Bending the Cost Curve (BTCC), Business Analytics Office and Vendor relationship management.
Application rationalization across the AF.
BES is critical to AF success.
Business Process Re-engineering is not just for our customers.
Open/transparent/frequent communication between BES and Industry can be a game changer.
MITS Keynote Speakers:
Mr. Robert Carl Shofner, Program Executive Officer, Business and Enterprise Systems (PEO/BES), Maxwell AFB-Gunter Annex AL
Dr. Tim Rudolph, Chief Technical Officer, Air Force Integrated Information Capabilities, Air Force Life Cycle Management Center (AFLCMC), Hanscom AFB MA
Lt Gen Steven L. Kwast, Commander and President, Air University (AU), Maxwell AFB AL
MilCloud and Beyond: Mr. Jason Martin, Civilian Deputy, Services Directorate, DISA (tentative) Enabling the "New Model" of Computing: CCE and the ITLC Mr. Mike Clark, Program Director for CCE; Mr. Scott Raley, Program Director for the ITLC
Panel Discussion: Changing the USAF Paradigm to Mobile First Moderator: Mr. Ralph DiCicco, Acquisition Chief Information Officer, SAF/AQXI Very Special, Senior Industry Expert on Mobility Industry Panelist: Mr. Nathan Golan, IBM Industry Panelist: Mr. Bryan Coapstick, HP Industry Panelist: Mr. David Vangeison, Dassault
Dr. William LaPlante, Assistant Secretary of the Air Force (SAF) (Acquisition), Pentagon, Washington, D.C.
Lt Gen John Thompson, Commander, Air Force Life Cycle Management Center (AFLCMC), Wright-Patterson AFB OH
Panel Discussion: App Migration to the Clouds Moderator: Mr. Toy Robinson, Director of Engineering, PEO Business and Enterprise Systems, Maxwell AFB-Gunter Annex AL Panelist: Mr. Stacy Waldrep, eSA Panelist: Mr. Jim Menard, Accenture Panelist: Mr. Matt Zager, Red Hat Panelist: Mr. Mark Southard, Isobar Panelist: Mr. Dave Zukowski, IPT Associates
Mr. Herbert Hunter, Director, Enterprise Service Division, Program Executive Office, Business and Enterprise Systems (PEO/BES), Maxwell AFB-Gunter Annex AL
This Conference was immediately followed by BES Vendor Industry Day on May 20-21 at Gunter Air Force Base. The BES PEO is the single largest AF entity for IT spending.
Need Help? Contact us