It seems like everything surrounding IT work is a problem: Outdated applications, insufficient speed, maximized storage, and constant security and virus threats. IT companies like Segue offer "solutions" to our customers because they are beset by problems with their existing systems and applications. Keep in mind there should have been a time when these problem-plagued tools were cutting edge improvements for those businesses, before time and progress turned them into antiquated pains in the butt (though I'm certain these applications still work as well as the moment they were first installed). The truth is that we are accustomed to rapid IT evolution and lose sight of the fact that there is a short shelf life on these machines and applications we depend upon. When we run into "problems" we are often just running into an IT tool reaching the end of its moment as "cutting edge" and it's time to move onto the next best thing.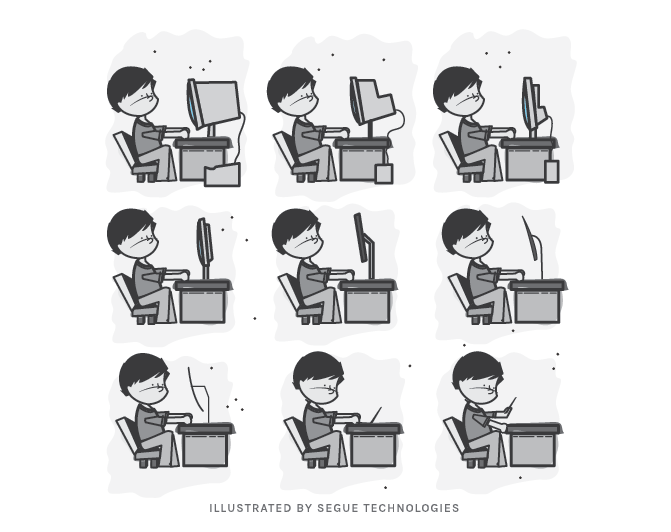 It's actually quite depressing when you think about how the computer age was supposed to automate and modernize our world – robot butlers, holo-decks, transportation belts, etc. Technology should have fixed everything, not have become synonymous with problems. If you compare the information technology business tools that we have available today to the offices of decades past, we should all be working just a few hours (or minutes) a week and spending the rest of the time arguing about the symbolism buried in Douglas Adams novels. But we still haven't crossed a technical threshold that satisfies us. Technical advancement opens up new capabilities and makes our existing tools obsolete. This progress ensures continued technical "problems."
Wallowing in a World of Hurt – IT Problems
I started out my career as a Help Desk technician, so every day I went to work to solve problems, other people's problems – login issues, restoring lost files, network connectivity, and broken hardware. I once had a lady bring me a laptop with a smashed screen and an apologetic story about how her cat had pushed it off the table. When I quickly transferred her hard drive into another laptop and sent her back to work, she confessed that she had dropped her laptop bag – no cat scapegoat. Daily cat stories and complaints about everything from cruddy printers, to outdated blackberries, to lost files that were never saved, led me to move out of the help desk to try my hand at technical writing. In my new role I described how everything was supposed to be and basked in the ideal use cases and tasks of custom developed applications. I joined the sunny side of the IT world, where technology solutions exist.
Leaving the help desk didn't help me leave IT problems behind though. IT problems aren't just for the end user calling the help desk, they're part of the nature of Information Technology – a constantly evolving and improving arena where everything sucks the minute you get it and you immediately wish it could do just one more thing. We've spoiled ourselves with the technological advances made over the last twenty years, taking for granted technologies' ever increasing speed, storage capacity, graphic quality, and capability. Technology is a curse, leading us to never be satisfied with things that make our lives easier and easier.
To be fair, some IT problems are clear and simple problems to be fixed. They're bad code from underqualified developers, or poorly designed applications that had insufficiently defined requirements or weren't tested enough. You can definitely have true IT problems from doing things the wrong way based on current capabilities, and a fresh set of expertise can come in and get things fixed. But these kinds of problems, like the woman who dropped her laptop, are related to user/developer/administrator error, not part of the evolutionary IT lifespan which demands constant innovation.
I'm Sorry, but You Grew Out of Your Favorite Pants – IT Evolution
However, not all "problems" are problems. The system worked when it was released. It met all the requirements, and was implemented perfectly. As technology advanced, however, the user interface design became less pretty in comparison to newer systems. Other systems it used to share data with have changed, and are no longer compatible. The system was developed to run on Windows 95, but you just upgraded to Windows 8. The advancement of technology itself causes "problems", and sometimes the easiest solution to these problems is to scrap the system and build a new one. I'll call this an "evolutionary problem". Evolutionary problems can be avoided by continuing to maintain and update systems as technology advances. When new libraries are released, systems depending on those libraries should generally be updated. When new operating systems are released, systems should be tested on the new operating systems and, if incompatibilities exist, should be updated. If we evolve our systems in pace with evolutions in technology, we can avoid (or at least mitigate) evolutionary problems.
I think we need to change our mindset on IT problems and embrace the evolutionary nature. Instead of griping about the shortcomings in what we have, we should look at enhancement and modernization as expected and routine parts of our business technologies.
Your business is going to grow, so your systems will need to grow too – there are no problems with this
Your business processes will evolve, so your application will need to be enhanced and modified to stay aligned with your operations – there are no problems with this
There will be new applications and hardware available tomorrow that you didn't imagine today, and you will want to take advantage of them– there are no problems with this
We focus on our IT problems, but there is a never ending supply of new and better solutions. Problems arise when we outgrow old technology or we think that the next thing we invest in is supposed to be long-term. We also set ourselves up for disappointment when we choose the cheapest option before us, thinking that it will suffice, when it is really an option that will be instantly unsatisfactory even if it lives up to expectations. We should always develop new applications to the best of our current capabilities and with an open path for improvement. Maintenance and enhancement begin the moment you release a new application into production, if not before. We should launch any new application, satisfied that it is better than what we had before, but aware that it won't be as good as what we will have next. Taking this mindset will embrace the evolutionary nature of IT and we will stop suffering from our incessant IT problems.