Every day I read a number of IT blogs to find the latest technology information to share with Segue's digital community through our Social Media sites. However, with the hundreds of IT blogs in existence it's not always easy to know what the best sources are. After almost a year of immersing myself in the world of IT focused Social Media, I've honed in on some favorites that I visit regularly for great articles and insights. Some of the top blogs that I follow are (in no particular order):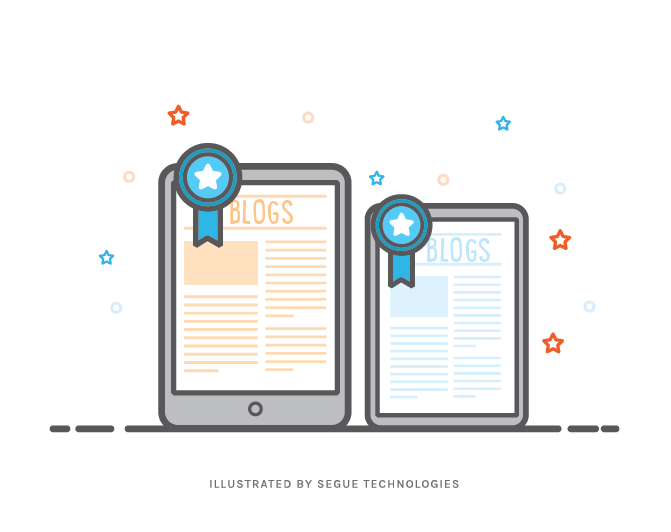 1. Mashable: is a leading source for news,information & resources for the Connected Generation. Mashable reports on the importance of digital innovation and how it empowers and inspires people around the world. Their 20 million monthly unique visitors and 6 million social media followers have become one of the most engaged online news communities.
2. TechCrunch: is a leading technology media property, dedicated to obsessively profiling startups, reviewing new Internet products, and breaking tech news. Founded in June 2005, TechCrunch and its network of websites now reach over 12 million unique visitors and draw more than 37 million page views per month. The TechCrunch      community includes more than 2 million friends and followers on Twitter, Facebook, LinkedIn, Google and other social media sites.
3. Fast Company: is the world's leading progressive business media brand, with a unique editorial focus on innovation in technology, ethonomics (ethical economics), leadership, and design. Written for, by, and about the most progressive business leaders, Fast Company and FastCompany.com inspire readers and users to think beyond traditional boundaries, lead conversations, and create the future of business.
4. Gizmodo: Tech, science, and culture for tomorrow, "from the future."
5. CNET: shows you the exciting possibilities of how technology can enhance and enrich your life. They provide information, tools, and advice that help consumers decide what to buy and how to get the most out of their tech. Key offerings of CNET are:
Latest news and unbiased reviews on tech products
Videos that demystify technology
Podcasts
Software, mobile applications, and game downloads
Community feedback about technology and consumer electronics
6. The Verge: covers the intersection of technology, science, art, and culture. Their mission is to offer in-depth reporting and long-form feature stories, breaking news coverage, product information, and community content in a unified and cohesive manner. The site is powered by Vox Media's Chorus platform, a modern media stack built for web-native news in the 21st century.
7. VentureBeat: covers disruptive technology and explains why it matters in our lives. Led by Founder & Editor-in-Chief Matt Marshall and a team of experienced journalists, they are a leading publication for news and perspectives on the most innovative technologies.
8. GigaOM: began as a blog by one writer in 2006, Om Malik, and has grown into one of the most credible and insightful voices at the intersection of business and technology. GigaOM is a new type of Media Company with a business model that leverages technology, transparency, and access to information. They are the leading independent voice on emerging technologies and the disruption of media.
9. ZDNet: brings together the reach of global and the depth of local, delivering 24/7 news coverage and analysis on the trends, technologies and opportunities that matter to IT professionals and decision makers. Whatever your role in the IT buying cycle, ZDNet provides support — from investigating options to optimizing a solution. Whether you want to follow hot topics or emerging trends, or keep up to date with the latest news and events, ZDNet is the destination for professionals seeking to research technology-related issues, and solve business technology problems
10. Computerworld Blogs: For more than 40 years, Computerworld has been the leading source of technology news and information for IT influencers worldwide. Computerworld's award-winning Web site (Computerworld.com), twice-monthly publication, focused conference series and custom research forms the hub of the world's largest global IT media network. Computerworld leads the industry with an online audience of over 3 million unique monthly visitors and a print audience of more than 1,059,000 readers each week (IntelliQuest CIMS, Spring 2009).
Are there any that we missed? Which blogs would you add to the list?