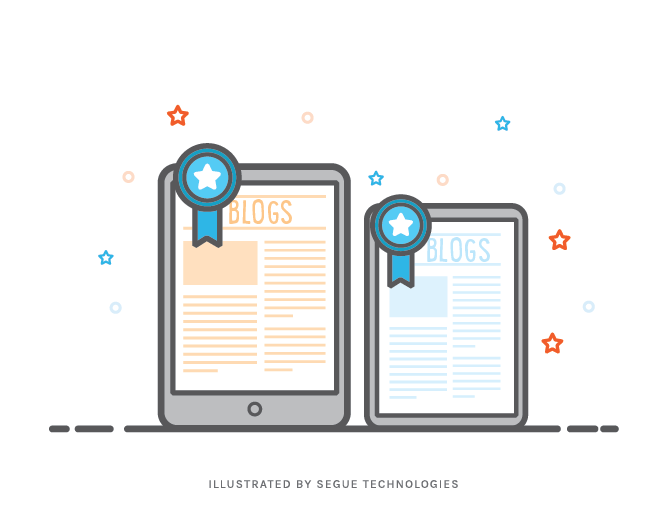 Every day I read a number of IT blogs to find the latest technology information to share with Segue's digital community through our social media sites. However, with the hundreds of IT blogs in existence, it's not always easy to know what the best sources are. After over three years of immersing myself in the world of IT- focused social media, I've honed in on some favorites that I visit regularly for great articles and insights. Some of the top blogs that I follow are (in no particular order):
Mashable: is a leading global media company that informs, inspires and entertains the digital generation. Mashable is redefining storytelling by documenting and shaping the digital revolution in a new voice, new formats, and cutting-edge technologies to a uniquely dedicated audience of 42 million monthly unique visitors and 23 million social followers.
TechCrunch: TechCrunch is a leading technology media property, dedicated to obsessively profiling startups, reviewing new Internet products, and breaking tech news. Founded in June 2005, TechCrunch and its network of websites now reach over 12 million unique visitors and draw more than 37 million page views per month. The TechCrunch community includes more than 2 million friends and followers on Twitter, Facebook, LinkedIn, Google and other social media.
Lifehacker: is a blog that deals with software and life hacks and provides tips, tricks, and downloads for getting things done.
Fast Company: is the world's leading progressive business media brand, with a unique editorial focus on innovation in technology, ethonomics (ethical economics), leadership, and design. Written for, by, and about the most progressive business leaders, Fast Company and FastCompany.com inspire readers and users to think beyond traditional boundaries, lead conversations, and create the future of business.
Gizmodo: Gizmodo is a blog about gadgets and technology. Started in 2002, Gizmodo has grown to be Gawker Media's largest blog, bringing in over 100 million page views a month in traffic. They post about a variety of electronics, as well as all sorts of things gadget geeks might enjoy.
CNET:  tracks all the latest consumer technology breakthroughs and shows you what's new, what matters, and how technology can enrich your life. They give you the information, tools, and advice that will help you decide what to buy and how to get the most out of the tech in your life. Each month, millions of people come to CNET to:
Read the latest technology news and unbiased product reviews
Find the products that are right for them
Watch videos that demystify technology and show off the hot new thing
Learn how to get the most out of the technology they have
Download software, mobile apps, and games
Post opinions about the technology and the consumer electronics they live with every day
Are there any that we missed? Which blogs would you add to the list?