Mobile devices, including smartphones, tablets and laptops, can be a terrific way for employees to access their company's resources wherever they are. More than just working from home, mobile employees today can essentially take their office with them on client visits, sales calls, at home when the kids   are home sick from school, and anywhere else where they can get a signal. The two best things that you can do to help your employees increase their   productivity are:
  Allow them to use mobile devices for work-related purposes
  Encourage them to use these devices
Sounds pretty simple right? It is. Mobile devices allow employees to better balance their life with their work. They can check their email while riding the train to work in the morning and participate in a conference call while on vacation. Rather than spending the first thirty minutes of their work day just figuring out what's going on, they can walk into the office already up   to speed. And yes, people will work while on vacation…..well, sometimes.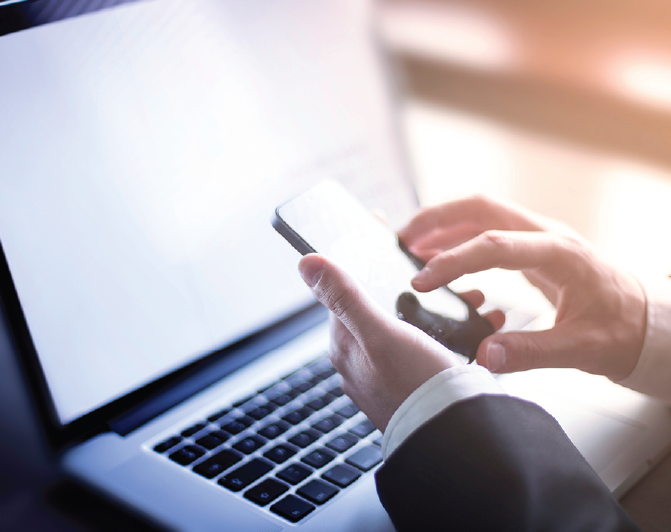 What is a Mobile Employee?
Anyone with a smartphone, tablet, or laptop computer is a potential mobile employee. Laptops are more or less just small desktop PCs and have been the preferred choice of mobile employees for about 20 years now. However, the new revolution in mobile productivity is driven by smartphones and tablets. Nearly 78% of adults in America use a mobile device of some sort. That means, whether you've addressed it yet or not, most of your workforce is already mobile. Also, their options for working as mobile employees are rapidly expanding and enabling them to meet a variety of scenarios specific to their work.
What Can Mobile Employees DO, Exactly?
Mobile devices are so advanced that almost anything your employee can do at their desk, they can do remotely. There are limitations on computing power, ease of keyboard use, smaller screen size, etc., but there are a great many regular tasks that your employees can perform with their mobile devices.
Keep Up with Email: Mobile employee productivity is about so much more than just email, but this is one of the most basic pieces. Having remote access to office email is the first step in helping your employees to do their jobs whenever/wherever they are needed, instead of just when they're in the office. The ability to use email on-the-go can ultimately make an employee more accessible and responsive overall.
Maintain Office Productivity: Office Suite Pro and Quick Office cover much of the same functionality that you can get with desktop versions of MS Office. Insofar as no one wants to type out a thousand words on their phone with their thumbs, they do have the ability to do it.
Share Documents: Cloud storage, Box, DropBox, Google Drive, Microsoft SkyDrive – do these sound familiar? They are all examples of personal cloud storage solutions, and all of your major providers have secure business-centric services as well. If you keep your data in the cloud, your employees can access it from anywhere, from any device, and instantly update it for your other users to see.
Virtually Attend Meetings and  Conferences: Modern mobile devices allow users to participate in meetings and conference calls without having to physically sit around that big table in your office's conference room. From Skype, or a Google Hangout, or FuzeBox, to WebEx or GoToMeeting, there exist an abundance of solutions that can let all of your users participate no matter where they are. Mobile devices also allow for a more robust meeting experience with video, screen sharing and real-time collaboration tools. How many meetings have concluded with someone announcing, "I'm going to make all these changes that we talked about, then I'll send the next draft around for everyone's review"? Why waste all that time doing things twice? With real-time in-meeting collaboration, the results of your work group are in as soon as the meeting is over.
Gain Direct Access to Network Resources: Either through a VPN or with an application such as Splashtop, mobile users can access both your company networks and their own desktop PCs remotely.
Bringing Your Own Device
A well-considered Bring Your Own Device (BYOD) policy is essential. You don't have to  buy a smartphone or tablet for employees who wish to work remotely. Many of your employees already have their own laptops, tablets, and/or smartphones and are bringing them to work every day. Deciding how best to integrate the needs of your mobile workforce and the requirements of secure corporate data is the core of your corporate mobile productivity   initiative. For years, your IT departments worried primarily about secure   desktop PCs and web/email threats. Employee-owned mobile devices are much more difficult to control, so the focus of your IT security should shift to   the data that the devices access, and not the devices themselves.
What Are The Benefits of Mobile in the Workplace?
So given that mobile employees are a modern reality, why should you encourage the trend?
Reduce time spent on data entry: Employees working in the field or at home no longer have to take time   when they're in the office to transcribe data they worked out once already.
Enable work from any location: Mobile productivity is more than just telework. Field employees can have direct access to company networks on the front lines. Sales personnel can have immediate access to corporate resources, such as subject matter experts, to answer client questions on the spot.
Improve collaboration and sharing: Mobile employees in disparate locations can work together in real-time as well as, or better than, if they were in the same office.
Increase employee work/life balance and overall satisfaction via flexible work schedules and options.
A story…
I worked with a department IT manager once who had just moved across the state to accept the position, leaving his family back home until the school year ended. He was too busy to do much of a house hunt on his own, and his wife wasn't interested in loading the kids in the car every weekend to drive   several hours and look at prospective new homes. Luckily for them, a mobile-productive realtor was able to help them out. They would collaboratively identify target properties via email and shared web searches, and then the realtor would visit the house by himself, conducting a video conference walkthrough using his smartphone. They were able to see every detail of every home they wanted to and get their questions answered in real time, just as if they were physically there.
What Are The Challenges of Mobile Employees?
The mobile-enabled employee is certainly not for every job description and for every task. Some data requires too much security and some work just simply cannot be performed outside the office. Some level of esprit de corps necessitates a normally social work environment. There are other considerations that include:
Connectivity: Mobile employees are at the mercy of the telecommunications network they are attempting to connect through. Even at relatively business friendly locales such as airports and hotels, Wi-Fi networks are often insufficient or expensive. Field workers located away from urban areas may experience issues with basic cellular network coverage as well.
Mobile data caps: Without a solid Wi-Fi connection, mobile workers might have to worry about paying overages for exceeding data caps. This can significantly reduce a mobile employee's productivity.
Cost: Mobile users can incur data overages, Wi-Fi access fees, roaming charges, which may require company compensation. In addition, in some cases, your company may very well be providing the mobile device itself. Even with a solid BYOD policy, mobile productivity is not free.
Security: Public Wi-Fi networks should always be assumed insecure, and any data transmitted over such a network is at risk to be intercepted or compromised. Allegedly secure private Wi-Fi networks, such as those offered for a fee at a hotel, for example, are still not subject to your own security standards; you can't assume their safety either. Employee mobile devices themselves are often insecure as well, and easily misplaced. Corporate data and applications made available to mobile users may be targeted by malicious actors.
How Do I Make Mobile Work for Our Organization?
First, formulate a company mobile device policy that takes into account your specific needs as well as those of your workers. Then, leverage BYOD to save your company hardware costs. Beyond that, determine which devices will best suit your employee's needs. A desktop is the most functional device but is not at all portable. Laptops usually provide plenty of computing power but are not as portable as a tablet and often more machine than is absolutely necessary. As a class of device, tablets are still rapidly evolving, and the line between   tablet and laptop blurs more and more every day. Many workers already own   smartphones that are more than capable of helping them handle basic   productivity tasks. Using an available cloud storage or document sharing   solution, or developing your own corporate mobile applications, might be the   final step required to fully enable your mobile employees. Design an IT   security policy to handle the mobile worker. Mobile networks and the devices   themselves are inherently insecure, so focus instead on securing your   corporate data and how your employees can access it remotely. Provide your   employees available and secure access to your data and applications   regardless of what device they own, what network they access, or location they inhabit. Also, remember to determine what data usage policy best serves your organization. Employees worried about paying overage fees for their personal data plans will likely be less productive. Consider a corporate mobile data plan or "Wi-Fi anywhere" service often available through a local telecommunications company.
Leveraging mobile technology is an important part of modern business. It can be a challenge to implement successfully, but it can also be an opportunity to   increase the productivity and satisfaction of your workforce.