What do Bill Clinton, Karl Rove, James Carville, the Mayor of New Orleans, and Peggy McShane, the managing director of Segue Health, have in common? The answer is that each of them played an integral role in the largest gathering of Health IT professionals in the country. Segue Health proudly joined over 35,000 attendees, 14,000 medical professionals and 1,158 exhibitors who converged on New Orleans for THE premier showcase of Information Technology in Healthcare, the HIMSS Annual Conference and Exhibition.
It's hard to equate the idea of red beans and rice, crawfish and po' boy sandwiches with the word "health," but for five days they wove together like a jazz quartet on Bourbon Street. Our very own managing director of Segue Health helped lead both the HIMSS Federal Health IT Business Development Workshop and Small Business and Diversity Roundtable luncheon. This allowed Segue Health to showcase our message of moving data from information to communication amongst the distinguished groups of health IT professionals and officials who were in attendance.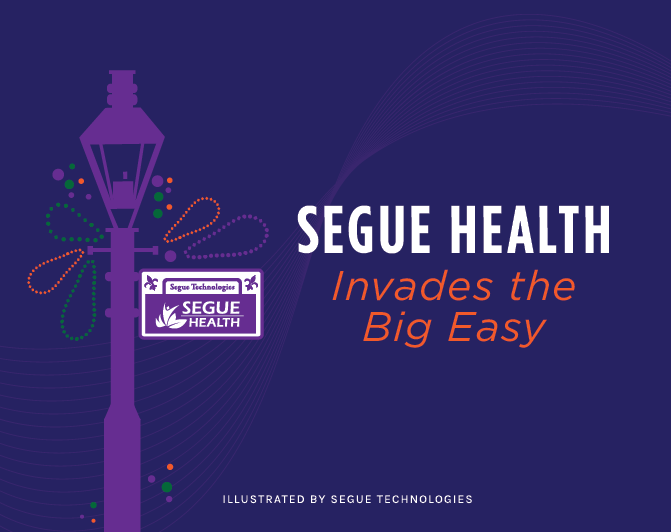 A few takeaways of HIMSS13 included key buzz words (that were actually not too different from last year's event): "Interoperability," "Big Data," "Patient Engagement," "Mobile Health," and "Meaningful Use," amongst others. While these are all components of driving Health IT and innovation into the delivery of health care, one increasingly highlighted area from this year was the social media aspect. More than ever, social media is becoming a large player in the Health IT landscape. More than a quarter of U.S. hospitals have a social media presence and 60% of doctors say social media improves the quality of care. One of the most telling stats presented was that "more than 90% of people ages 18-24 said they would trust health information they found on social media channels." A majority like this certainly underlines the importance of social media in patient engagement.
When it comes to mobile technology, 2013 is expected to be a banner year in "mHealth." One in two adults use their smartphone to look up health-related information. While this comes as no surprise, it further emphasizes just how fast the industry is moving. In just this past year alone, statistics have shown that physicians, patients, providers and healthcare professionals across the Health IT landscape are using smartphones and tablets in their work in unprecedented numbers. One of the industry's most anticipated releases in 2013 will be the FDA's announcement of mobile medical app regulations. These rules will help convey a sense of how the FDA intends to apply their set of regulatory authority to a huge number of mHealth apps. It will be interesting to see how software companies doing mobile development will be affected by these "regulatory announcements."
Perhaps the biggest news from HIMSS at this year's conference was the fact that the organization plans on opening an innovative, interoperability-focused center in Cleveland called the Global Center for Health Innovation. It is set to open in October 2013 and will include 25,000 square feet of exhibition, demonstration and interoperability testing space.
All in all, New Orleans and #HIMSS13 was a great success for Segue Health, as it further highlighted just how much potential we have to make a positive impact in this market. Whether it's tackling the many complex data challenges, designing and developing innovative mobile health applications to further improve patient engagement, or helping to expand the role of social media's presence in Health IT, just like a Crescent City jazz master, we have to have the ability to adapt to any "tune."