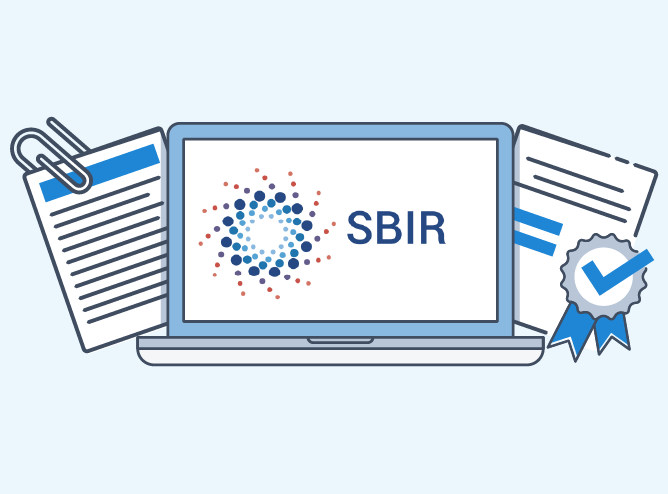 Twelve federal agencies including the Department of Defense are utilizing SBIRs for its sole-source capability to directly award and expedite the acquisition process to obtain innovative technology and new capability at lightning speeds. It's common to think that SBIRs can only be used for special technical needs but that is not the case. SBIRs can be established for products, production, services, Research & Development (R&D), or any such combination. So, what exactly is a SBIR?
What Is a SBIR?
The Small Business Innovation Research (SBIR) program was established by Congress in 1982 to provide seed money for small research and development firms that can offer innovative solutions to a variety of federal government challenges. Its goal is to stimulate and foster scientific and technological innovation while increasing commercialization of Federal research and development.
A related program called Small Business Technology Transfer (STTR) was established in 1992 to fund cooperative R&D projects with small business and non-profit U.S. research institutions, such as universities. Both the SBIR and STTR programs focus on projects and services with the potential to develop into a product for federal or commercial sectors.
The SBIR/STTR programs encourage U.S. small business to engage in a multi-phase approach with potential for commercialization and a huge impact to the federal government in their ability to find innovative solutions to their problems. The program provides initial funding to get the innovation started to a point where federal government agencies can readily place the solution on contract to adapt it to meet needs and challenges.
According to SBIR.gov (https://www.sbir.gov/), the SBIR/STTR programs have four goals:
Stimulate technological innovation;
Meet Federal R&D needs;
Foster and encourage participation in innovation and entrepreneurship by women and socially or economically disadvantaged persons; and
Increase private-sector commercialization of innovations derived from Federal R&D funding.
The SBIR and STTR programs are making a small investment for the federal government to achieve a return on investment (ROI) and large-scale innovative change from that investment.
How Does the SBIR Program Work?
A key goal of the SBIR program is fund and reward innovation, and that requires a rapid and agile approach to contracting, which is not typical in other parts of the Federal procurement world. The SBIR program achieves this through a 3-phase award process, allowing them to effectively compete the need, award quickly, assure value, and then follow through with a larger investment. The SBIR Phases work as such:
Phase I is awarded to U.S.-based small businesses with SBIR Research / Research & Development (R/R&D) funds with the objective to establish the technical feasibility, scientific merit and potential of a proposed R&D effort.
Phase II is awarded with SBIR R/R&D funds to Phase I SBIR holders to build-out, prototype and test efforts defined in a Phase I SBIR.
Phase III is awarded to any Phase I or II SBIR awardee for the purpose of leveraging the effort defined, prototyped and tested in the previous phases. Any federal government agency can issue a Phase III award, regardless if they were part of the Phase I or Phase II activities. A Phase III award can be issued any time after a Phase I award.
A Phase III SBIR is how the government can really achieve a great ROI from the Phase I and II investments as it allows organizations with a similar challenge to go straight to the solution/provider and issue a directed-award contract for the solution. Since the Phase III award is the specific federal agencies' exploitation of the solution, SBIR R/R&D funds are not utilized.
To further streamline the procurement process, the SBIR Program enables a direct sole-source contract for Phase III awards. This approach leverages the competitively sourced Phase I and II awards and provides new solutions to meet Federal programs' needs. Awarding a Phase III SBIR is a much more simplified acquisition approach that speeds the time from need to solution and reduces costs compared to other procurement approaches. A sole-source award can be made in a matter of months or even weeks. An issuance of a Phase I and Phase II SBIR is considered a competitive-based award therefore the requirement for competition has been satisfied. This makes Phase III contracts highly attractive.
As an overview, the Phase III SBIR award:
Is a directed, sole-source award with no funding ceiling that can be issued anytime to a Phase I or II awardee as an extension, derivative or completion of Phase I or Phase II work
Can be funded by any and all types of federal funding (except SBIR funds)
Can be used by any organization within the 12 federal agencies that participate in the program
Has already satisfied all federal competition requirements as the competition requirement was achieved in the previous SBIR Phase award
Can be any cost type: Firm Fixed Price (FFP), Time & Materials (T&M), Cost Plus Fixed Fee (CPFF), Cost Reimbursable (CR), etc.
Can be classified Small or Full & Open
Can consist of any combination of teammates – small/large businesses, universities, and/or federal funded R&D centers and has no small business prime 51% workshare requirement.
Ease of use and speed of acquisition is so important that the National Defense Authorization Act (NDAA) of 2018 included several positive provisions for small business and changes to the program to make it much easier for SBIR/STTR awardees to pursue and win Phase III follow-on money to further develop SBIR/STTR Phase I and II technologies. Full SBIR Policy Directives can be found at https://www.sbir.gov/sites/default/files/SBIR-STTR_Policy_Directive_2019.pdf.
How Do Small Businesses Get a SBIR Contract?
Many DoD organizations are having "Pitch Days" where small businesses can pitch their ideas and receive a Phase I SBIR and funding right on the spot! The concept is like commercial investment pitch competitions like the TV show "Shark Tank". Dr. Will Roper, Assistant Secretary of the Air Force for Acquisition, Technology and Logistics, has said that every program executive office, Air Force base, sustainment center or depot could host their own "Pitch Day" events.
"I'm a big believer in creating tools instead of rules for the workforce," Dr. Roper was quoted as saying. "Here's a tool [and] I'm going to try to energize our team to take it and run with it, and I'm going to be excited to see what they do."
The SBIR/STTR website posts helpful information for the agencies looking for applicants. Applications for SBIR/STTR awards are submitted in response to agency solicitations Links to the solicitations from the agencies can be found at: https://www.sbir.gov/sbirsearch/topic/current.
How Does Contracting Execute a Phase III SBIR Award?
Executing a Phase III SBIR is not something that most acquisition and contracting specialists have accomplished in their tenure. In fact, many are not familiar with SBIRs or how to award Phase III contracts.
A SBIR Phase III contract award "could result from an unsolicited proposal, simplified acquisition announcement, an ordering process allowed under Indefinite Delivery/Indefinite Quantity (ID/IQ) contracts, Multiple award contracts, or a non-competitive award," according to the United States Air Force (USAF) SBIR/STTR Phase III Desk Reference v2.0. "No Justification & Approval (J&A) is required if the award is based on any competitive announcement (Request For Proposal (RFP), Broad Agency Announcement (BAA), etc.)."
The Air Force, Navy, Army and other military and civilian agencies have published Contracting Guidebooks to help Program Managers, Contracting Officers and Small Businesses navigate the SBIR/STTR Phase III process. From step-by-step instructions to questions and answers sections, the guides contain the information needed on how the program is designed to operate. Below is a list and direct link to some of the reference guides that can also be found at https://sbtc.org/resources/):
GSA – They Are Here to Help!
The SBIR program is specifically designed to support the rapid acquisition of advanced technology into the hands of the warfighter. The General Services Administration (GSA) recognized that agencies needed help in executing a Phase III SBIR so they set up a SBIR Phase III Center of Excellence, with experienced contracting and program personnel available to specifically guide Phase III awards quickly. Their role is to assist Government Program Managers and Contracting offices on how to use a Phase III SBIR. An overview of the program can be found at: https://aas.gsa.gov/sbir.html. Local GSA representatives can also help government program managers, acquisition specialists and small businesses learn more about how GSA can help award the Phase III SBIR.
Learn More About Segue Technologies' SBIR
Segue Technologies won a SBIR through the Air Force's Inaugural Pitch Day in New York City (NYC). The focus of the NYC Pitch Day was products that could further national security in air, space and cyberspace with an emphasis on battlefield air operations technologies, digital technologies and command, control, communications, intelligence and network capabilities.
Segue Technologies was awarded a SBIR to modernize and migrate legacy systems to the cloud utilizing their suite of system engineering practices, the unique Segue Process Framework (SPF), and a leading no/low-code development platform that provides advanced capabilities to include: analytics, machine learning, artificial intelligence (AI) and process automation (Robotic and Digital). Since cloud migration is a key driver in current and future legacy system sustainment and modernization efforts, the Segue SBIR provides the process, platform, and agile methodology critical to modernization and cloud migration success.
Segue's successful Phase I and Phase II SBIR project was to configure and implement a low code / no code (LCNC) solution in the cloud combinging use of Segue's  SPF with LCNC technology.  Segue worked with an Air Force organization to identify a specific legacy system set of business capabilities and built a prototype application to run in a cloud environment. Utilizing an agile development methodology, Segue developed a prototype that addressed important considerations for advancing the LCNC platform into an operational environment – reusable component architecture, software code reuse, and seamless acceptance and support of solutions developed by another organization. To learn more about how Segue's SBIR can work for you, contact us at SBIR@seguetech.com.