A four-person Segue Technologies' team had a great week engaging with partners and government on the critical need for full life cycle application development and modernization for Air Force organizations at the Air Force AFITC IT and Cyberpower conference. Matt Klapmust, Segue's VP of Air Force Programs; David Hart, VP of Business Development and Strategic Partnerships; Jason Norgaard, PM of AFRL/EBS; and Kevin Wallace, Segue Warfighter Outreach and Public Relations, united with our Pega business partners in a joint Segue-Pega booth at the conference. Segue and Pega are business partners in the Air Force EBS program.
"Segue partnered with Pega at AFITC and explored related change initiatives as we learned about key AF reorganization and nontraditional new acquisition approaches from the government that align with innovative approaches and agile execution," said Hart.
Segue is a dynamic company that oversees full life cycle application development and modernization for DoD and Federal organizations. Segue is also a very veteran-friendly company and showcased art made by veterans as part of its Segue Technologies Art and Resiliency (STAR) Program. "We donated one of our STAR exhibit paintings, which was painted by Air Force retired Master Sgt. Angela Biggs, to two special wounded veterans," said Wallace, who on Facebook live presented Biggs' painting to Jason Smith and Matt Leyva of Catch a Lift Fund (Fitness for Veterans).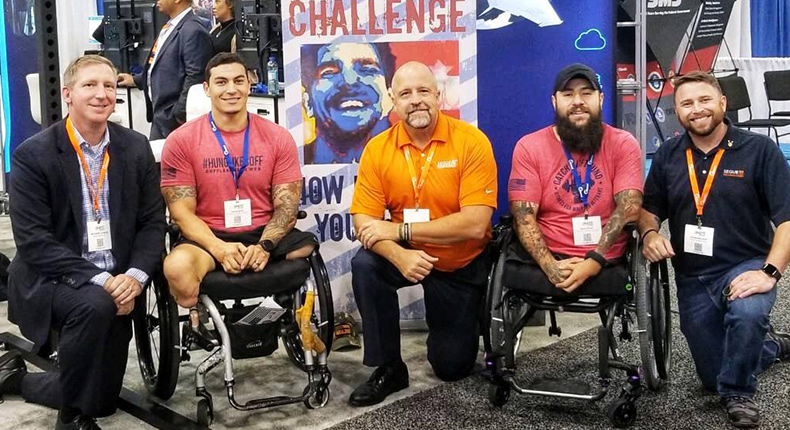 "Additionally, David Hart and I had the honor of bringing Medal of Honor recipient, retired Command Sergeant Major Bennie Adkins, to dinner," said Wallace. "At Segue, we believe there is a direct connection between what we do as IT and Cyber contractors and the warfighter. We relish in each opportunity to support heroes like Bennie, Jason and Matt; frankly, it's deeply rooted in our culture at Segue.