Business Development, veteran outreach and golf were all on the agenda as a corporate team from Segue Technologies attended the AFCEA Alamo ACE Conference in San Antonio Nov. 18-20. Alamo ACE is a great event with a national draw, supporting the military community. It provides industry with access and insight to the senior leader's perspective on current developments in cyberspace and future challenges in transforming to multi-domain operations strategically, and military cyber and ISR operations battlespace in the future.
Segue VPs Matthew Klapmust and David Hart networked on Cloud Migration, Advanced Data Analytics and Systems Modernization matters with partners and government, while Segue outreach manager Kevin Wallace officially launched the new Segue Technologies Art and Resiliency (STAR) program.
"Alamo ACE was an exceptional success for us," said Hart. "Segue explored partnership opportunities and showcased the new STAR Program at this great event. It was truly inspirational to see the impact STAR had on attendees."
"It was a true pleasure for Alamo ACE to host you and the STAR exhibit at this year's event," said Brig. Gen. (ret) Jeff Kendall, Alamo AFCEA and Chairman of the Wounded Warrior and Military Families Endowment. "We sincerely appreciate what you do for reaching out to veterans in need and for your commitment to informing and educating the general public on post-traumatic stress challenges. So few can actually connect with the reality of invisible wounds, without having a common experience. You help bridge that gap and we thank you."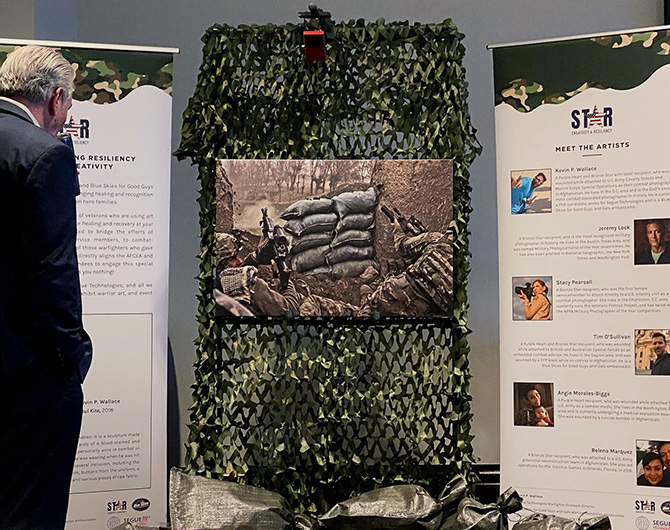 Segue works closely with partners, and events like this are important to both furthering already established relationships and fostering new ones, said Klapmust, adding in reference to the golf outing, "It's also important to take a moment here and there to enjoy work. We all work long hours and dedicate so much to the Segue mission. Times like this are still work, but more-relaxing and finish work."
Proceeds from the golf tourney benefited wounded veterans that AFCEA sponsors.