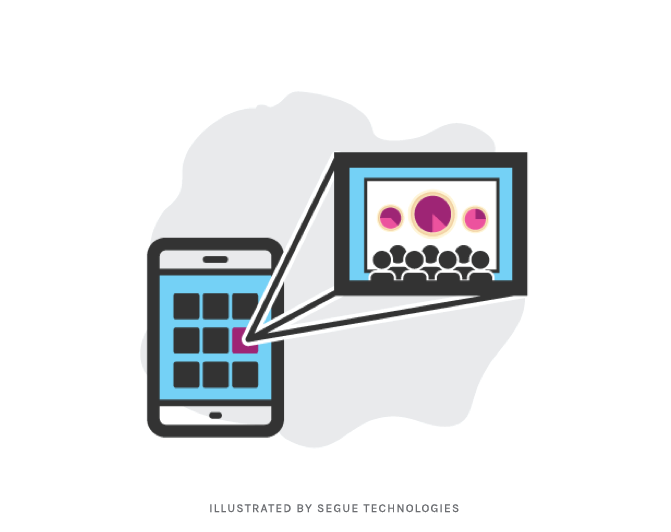 In March 2014, Segue was on-site at the Building and Construction Trades Department (BCTD) annual legislative conference. During this event, construction trade representatives from across the country came to Washington D.C. to learn about current legislative issues, meet with congressmen, and plan for the year ahead. BCTD attendees had an extra leg up at this year's legislative conference – a mobile app that Segue developed.
Trade associations often have events like this in the capitol area and most attendees are not local. Almost all of them have smart phones. If you're hosting one of these events, you should have a mobile app for your event because it provides attendees with easily accessible background information, real-time agenda updates, maps and travel information, sponsor and exhibitor information, and additional content.
Access to Legislative Issues
Attendees meeting with politicians and other decision makers need to be aware of the current legislative issues being discussed. They also need to know exactly where the organization stands on the issue. Providing summary background information and also more in-depth resources allow attendees to quickly get up to speed on a topic. This information also provides additional context during plenary sessions and workshops at a conference. Ensuring this content is immediately available and easily accessible can mean the difference between successfully influencing a political issue and losing a key vote.
Real-time Agenda Updates
Events take months to plan, but it only takes minutes for an agenda to fall apart. Speaker cancellations, room assignment modifications, and other changes (either foreseen or unforeseen) can make the printed program obsolete almost by the time it's printed. A digital version of the agenda that users can access from their phones ensures that these types of changes are immediately relayed to attendees. Mobile apps are also less likely to be thrown out, left on a conference center chair, or forgotten in a hotel room.
In addition to the real-time updates, a native mobile app allows data to be accessible even when users don't have a data connection. There are some other conference services out there that offer mobile-optimized websites, but those aren't useful if your users can't access them. The offline data support that we bake into our apps allows access to important information at all times.
Maps and Travel Information
Many conference attendees are traveling from different parts of the country. Some rent cars; others rely on taxis or public transportation to get around town. Integrating maps of not only the conference center, but also including maps of the local area, including a Metro map, restaurant guides, shuttle info, or hotel locations, dramatically increases the usefulness of your conference app.
Providing detailed maps of the session locations inside the conference center also makes the app more interactive. Allowing users to view agenda items and then immediately view the location of an event in the map helps attendees find their way quickly.
Sponsor and Exhibitor Info
Sponsors make many of the events and features of a conference possible. Promoting those sponsorships enhances brand recognition and encourages additional sponsorship. Static banners and posters around a conference center get the sponsor names out there to be seen, but attendees can't click a poster to get more information. Integrating sponsor logos and links within a mobile app creates a direct path to consumer engagement.
Exhibitor halls can also be large and make it difficult to find that one vendor you're looking for amidst the sea of booths. Interactive exhibit floor maps make the searching for and locating of an individual booth fast and easy.
Additional Content that Doesn't Fit in the Printed Program
Printed programs lack the dynamic nature of an application and can only hold so much information without becoming so large attendees feel like they're being given a phone book. The ability for a mobile application to let users dig deeper, access additional information, and leverage external data sources increases the overall functionality of the app. Users can read more about issues being discussed, provide session feedback directly from the app, search directories, or view congressional voting records.
Watching attendees at the BCTD conference walk through the halls looking at their phones to see when and where the next sessions was, certainly validated the development experience for me. It was also gratifying to hear the positive feedback directly from end users when they told us how useful the app was and how easy it was to use. If you're hosting a conference, legislative or not, consider giving your users something more useful and easier to use than the printed program – give them an app!
The BCTD conference application is available on the iTunes and Android app stores. Feel free to test it out and let us know if we can build something like it for your event.