Mobile health app developers that design with user experience (UX) as a priority will yield the most success. So what can mobile health development teams do ensure success? The answer is to consider usability engineering. In addition to the mobile apps, smartphones are increasing in screen size while synchronizing with smaller, wearable devices such as the Apple Watch that also use apps and have their own usability challenges.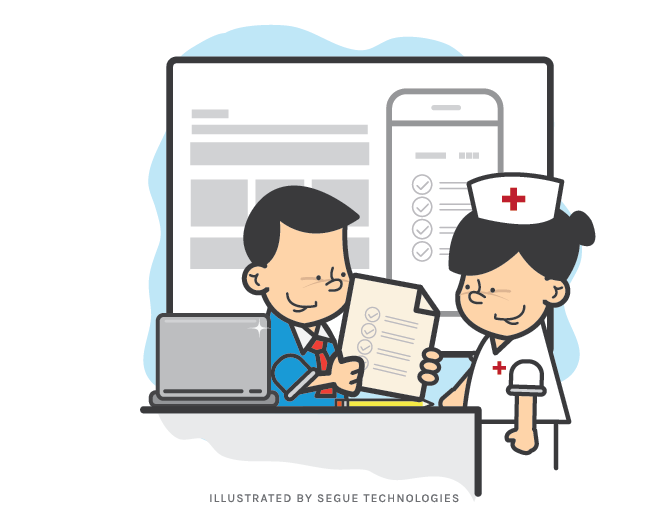 What is User Experience (UX)
According to Usability.gov, User Experience "focuses on having a deep understanding of users, what they need, what they value, their abilities, and also their limitations. It also takes into account the business goals and objectives of the group managing the project. UX best practices promote improving the quality of the user's interaction with and perceptions of your product and any related services."
Why UX is Important for Health IT
The transition from paper medical records to EHRs has certainly transformed how health information is recorded, analyzed, and shared within the provider and payer communities. For the most part, health consumers were not considered during the design, development, and testing of these enterprise-wide systems. The transitioning of EHRs to mobile platforms will be a much different experience as health consumers are accessing and sharing their health data on smartphones and tablets. Health consumers are now part of the "user" base that must be considered as mobile health apps are some of the most popular apps on the commercial marketplace.
The way in which users interact with mobile devices and apps is having a profound way with how and how often we access data, which is a big factor to the Health IT community. For example, with using a smartphone, users "Pull to Refresh" to update the screen with the most current information. However, these human factors change when interacting with a smart watch. A vertical swipe scrolls the user to additional information on the current screen while a horizontal swipe displays the previous or next screen.
As for the content, Health IT data and information is usually very dense and complex so graphical representation is often the best approach to display. But when does a graph on a smartphone become usable to a physician, nurse, technician or even the health consumer?  There are several presentations at the HIMSS15 Conference that will address this question. From a technology perspective, software engineers, designers, and usability experts all agree that understanding how the user wants to interact with the device and information is critical to the overall user experience, acceptance, and success of the app.
Segue's software developers and designers are very cognizant of the importance of the user interface and the visualization of the content.  When to "pull" and when to "swipe" are important decisions that must be considered. Segue's Creative Team works closely with our software developers to create custom designed mobile applications. One of the methodologies used is "Usability Engineering".
It is only the beginning of new opportunities for those interested in how to transform health using human factors, usability, and design for mobile and wearable devices. I am certain HIMSS15 will only add to the momentum in this field and to new and innovative ideas for Health IT.