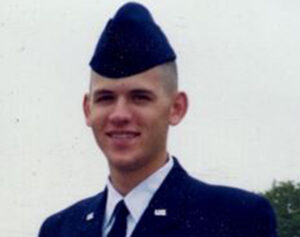 Troy Bowling joined our team in April 2019 as a Software Developer Intern. In October 2019, he became a full-time Pega developer, supporting a contract located at Wright Patterson Air Force Base, OH.
Troy was a member of the Air Force for over 7 years, joining in the late 90's right out of high school. His main motivation for joining the Air Force was to find his next goal and stay in his area. This is what he had to say: "I was looking for more than just college. I ventured into downtown Dayton where the recruiting line was. I walked past the Army and Navy offices because they had recruits waiting to talk to them. At the end was the USAF (United States Air Force) station, so I dropped into that recruiting station. After a long discussion with the Recruiter, SSgt Cornett, and a few days of conversation with my parents, I was enrolled in the Delayed Entry Program with an enlistment date of February 28, 2000. Honestly, I chose the USAF over other branches because I was familiar with Wright Patterson Air Force Base and its proximity to my hometown."
During his time with the Air Force, Troy worked in communications as a Broadcast Maintenance Engineer. Experience that later helped him transition into the civilian world, where he worked as a Broadcast Maintenance Engineer for a local broadcast company. Some of the highlights of his career include supporting OE during the first half of 2002 and transitioning from Communications Engineering to Software Development a few years ago.
Speaking about his new role as a civilian supporting the USAF, Troy said, "Supporting the military through my current role as a contractor is exciting. It was something I had experienced as an Airman working with contractors and civilians, and now I am experiencing the other side of the coin. That gives me an idea of ​​some challenges that can arise as well."
When asked about his experience at Segue, he said, "One of the main reasons I focused on Segue when looking for jobs a few years ago was their history of valuing veterans for what they bring to the table. I feel Segue values ​​not just regular employees who work for the company, but they also put an emphasis on valuing those employees who have also served our country."
His advice to others transitioning out of the military: "Be proactive before, during, and after that transition from military to civilian. It may seem intimidating, but you can't wait for anyone to tell you what to do. Do your due diligence and press on. Find what you want to do and do it."