On January 17, 2020, as part of our Management and Leadership series we did an interview with Brian Callahan, Segue President and CEO. Brian provides strategic direction and vision in overseeing operations, to include all aspects of corporate budgeting and financials, internal controls, compliance and policy development. In addition, he provides leadership for company growth, strategy, team building, employee development, innovation, technology mastery, and development of effective relationships.
During our conversation, Brian talked about the importance of self-improvement, honest leadership and teamwork. He believes Segue is a huge puzzle where all employees (or "Team Members" as he refers to the employees) are key pieces. In planning for the future, he takes into consideration everyone's skills and plans how to best use them on projects and to achieve company goals. His motto is "hire the best in the industry and provide an atmosphere where innovation and team collaboration are paramount." You can find more about his leadership perspective by reading "Brian Callahan's Performance Expectations on our website." My three favorite expectations are: take initiative, take ownership, and focus on the future not the past.
Take Initiative, this is the first and most important step in acting on great ideas. You have great ideas – give them a chance to succeed. Take Ownership, treat your initiatives and projects like you own them. They are your responsibility. And, Focus on the future, not the past, because you are human, you are going to make mistakes along the way. When that happens, focus on how you can learn from your mistakes and improve.
Below you can find a portion of my interview with Brian:
What is the management/leadership style you want to create at Segue?
I believe in leading by example. Two fundamental aspects of that is taking initiative and demonstrating a sense of ownership for your projects and responsibilities.
Why Segue? What is the origin of the name?
The definition of the word 'segue' is to proceed to what follows without pause – essentially a transition from one state to the next. The company was founded on the belief that information technology is a critical component of growth and progress in the modern world. Implementing effective technology solutions involves change and transition. Our goal is to help our customers seamlessly transition to a successful future.
Why do you think someone should apply to work at Segue?
Segue offers the opportunity to work in a mission focused, team environment solving our customer's most difficult challenges. It is a great place to learn, grow and succeed while working with other like-minded professionals.
What does Segue offer that other companies do not offer?
Our culture. We operate as a small company, so this is the place to be if you want the management team to know who you are and to see the valuable work you're doing for the company.
What is your opinion about our culture, environment and work-life balance?
We have employees working at our corporate offices, customer site and full time remote, we do our best to make them feel part of the team no matter the location. We try to be flexible on a daily basis to ensure proper work/life balance. We have a relaxed work environment, with management accessibility, and open communication between an employee, the supervisor and the Executive team
What is your idea about diversity and inclusion at Segue?
I believe that our diversity is one of our greatest strengths. I am proud of the diverse mix of people we have at Segue – different cultures, backgrounds and life experiences. More importantly, I love how our employees respect and learn from each other. My favorite part about growing a company is being able to add new people to the mix and watch that magic happens!
What are you looking for when hiring someone to work at Segue?
We are looking for people who are open minded, mission focused, love tackling difficult challenges, and enjoy learning new skills in a team environment.
What are your future plans for Segue?
We are living in one of the most exciting times in history. The pace at which technology is advancing and being integrated into our daily lives is unprecedented. We are focused on helping our customers as they embark upon their digital transformation journeys. This includes transitioning from outdated legacy systems onto modern, cloud-based platforms enabling Analytics, Machine Learning and Artificial Intelligence.
If you could say something to a new applicant, what would it be?
Please join us – you will be forever glad you did!
If you are interested in reading more about Brian, click here.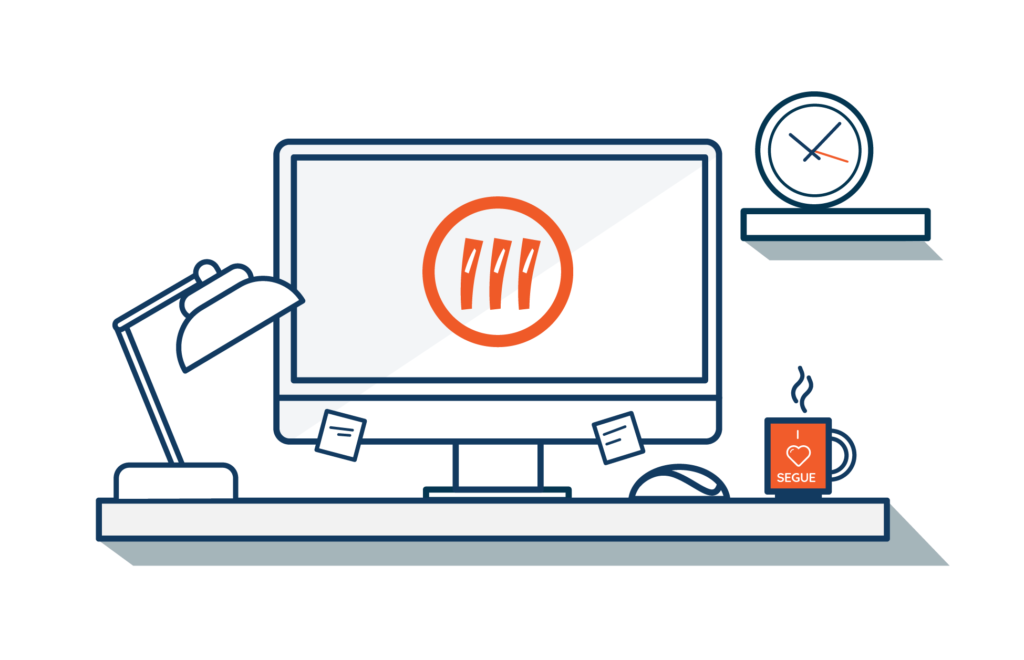 Join the Segue Team!